You may be considering hiring a tutor, but not sure what to expect. You might have experienced hard sales tactics in the past, or regretted sharing your contact details by the fifth 'Just checking' message. I want to put your mind at ease today and tell you exactly what happens when a potential client gets in touch with me at Green Tutors.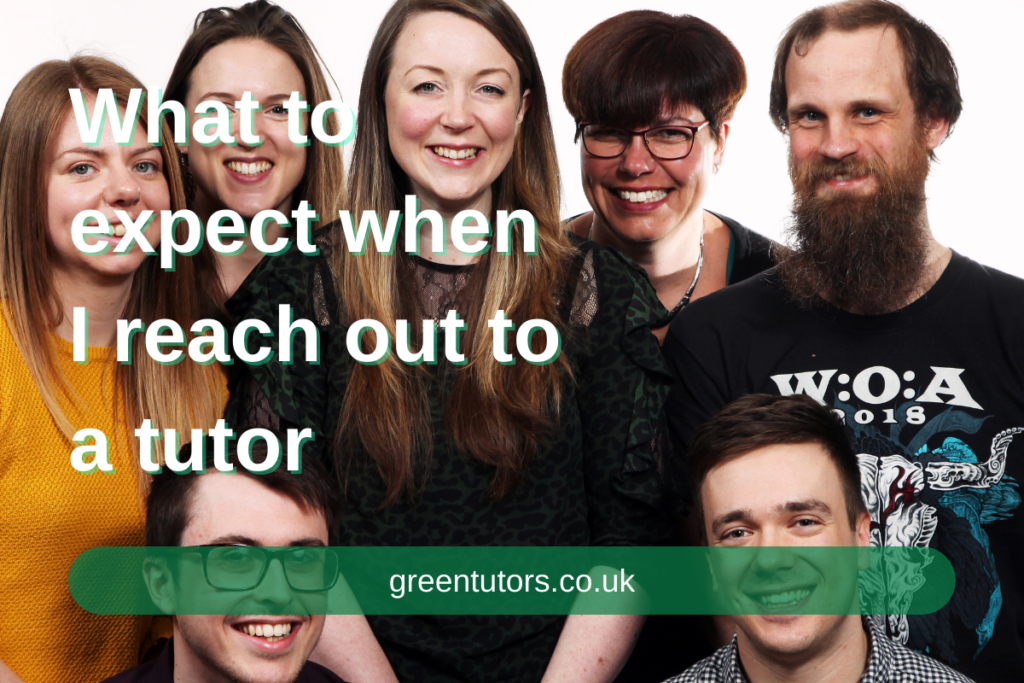 These are some of the questions I am frequently asked when people contact me.
What information do you need?
Ultimately, I just need to be able to contact you when you request a tutor. Within a quick phone call or text conversation, I can identify the support you need, and whether it is something I can provide.
While every student is different, and the benefit of hiring a tutor is that tuition can be very personalised, there are a few common threads that our tuition tends to follow.
I will ask the age of your child, what they're currently studying (qualification and level, i.e. GCSE maths and they're in year 10), and identify what their particular goals and challenges are.
This will help me to match them to a tutor and share some advice, but their tutor will work with them in more detail and make sure they receive the targeted support they need.
When do I have to pay?
You won't have to pay a penny until you've agreed on an ongoing schedule after hiring a tutor. Lessons are billed monthly in advance, so you will receive a bill for the remainder of the current month, due a couple of days before the first scheduled lesson happens.
Going forward, you'll receive monthly invoices around the middle of the month, giving you at least a week to pay (usually two).
When you're hiring a tutor for a regular lesson, the bill should be the same each month, and you can set it up on a Direct Debit so you don't have to think about it.
If you want to change your schedule, pause the lessons, or increase them as exams approach, you can do that whenever you like, with a minimum of 48 hours' notice. There is no minimum requirement for bookings.
What happens in the lessons?
There is no set approach, as the tutors will customise the lesson to the student and their goals.
If the student needs to build confidence, we'll work on demonstrating their abilities, getting some 'quick wins' to show them what they're capable of, and spend more time on any identified challenging areas as they come up. You can read more about this in our blog How can students get more confident before their exams.
If the student is preparing for an exam, we'll work through exam questions with them, share the way that mark schemes are applied, and assist them in finding ways to put their knowledge onto paper. We'll also share time management skills to help prevent overwhelm.
For anxious students, we'll work through an anxiety ladder with them and help them to improve their resilience. We'll share positive habits that will improve their well-being and help them to deal with future challenges. Cai Graham share's some great advice on managing stress and anxiety.
Ultimately, we're trying to make ourselves redundant. Successful hiring of a tutor ends with a student who can learn and grow independently so that they can go on to the next step of their academic career with confidence and a study 'toolkit'.
What happens if my child doesn't get along with the tutor?
I make sure that all of the tutors I hire are friendly and approachable, and know how to build relationships with their students.
That being said, it is important for the student to get along with their tutor, as we're encouraging them to step out of their comfort zone and be vulnerable.
If you hire a tutor and then feel like your child is not getting along with them, I encourage you to get in touch and let me know. We're very happy to receive your feedback, and we're able to match you to a new tutor very quickly. We don't take it personally.
Your tutor will also let you know if we feel like there is a challenging relationship, and give recommendations, as we want you to get the most from your investment. We know well that not every child comes easily to tutoring, and we're happy to work with you to identify and improve any roadblocks. We want our students to enjoy learning.
Do you provide the support I need?
We provide online tuition for STEM subjects (maths, science, computer science, engineering) for 11-18-year-olds and adult learners.
I have been operating in this area since 2011, and have a wealth of experience in this area.
But I also have a wide network in the tutoring community, and I am always able to recommend someone if what you need doesn't match what we offer.
For English tuition I often refer students to Zoe Sophie or Tom Harrop.
For primary tuition I often refer students to Portia Smith.
What support will my child get?
Alongside regular tuition, we provide each student with a library of resources to work with in a Google Drive.
We send everyone a graphics tablet after their first session so that they can work directly with their tutor online. It removes the need to print massive exam bundles and means their work is saved online.
We provide a free revision masterclass to all clients so that they can make the most of their time with the tutor by also building in good habits. They'll leave with a revision schedule that works for them, and includes time for work, rest, and play.
They'll learn valuable study skills that they will be able to take with them through their entire academic career, from our team of experienced academic tutors who know well how to make the most of their study time.
—
We'd love to support your child with their study goals. Submit your details at https://greentutors.co.uk/request-for-tuition/ for a no-obligation introductory appointment with a tutor.