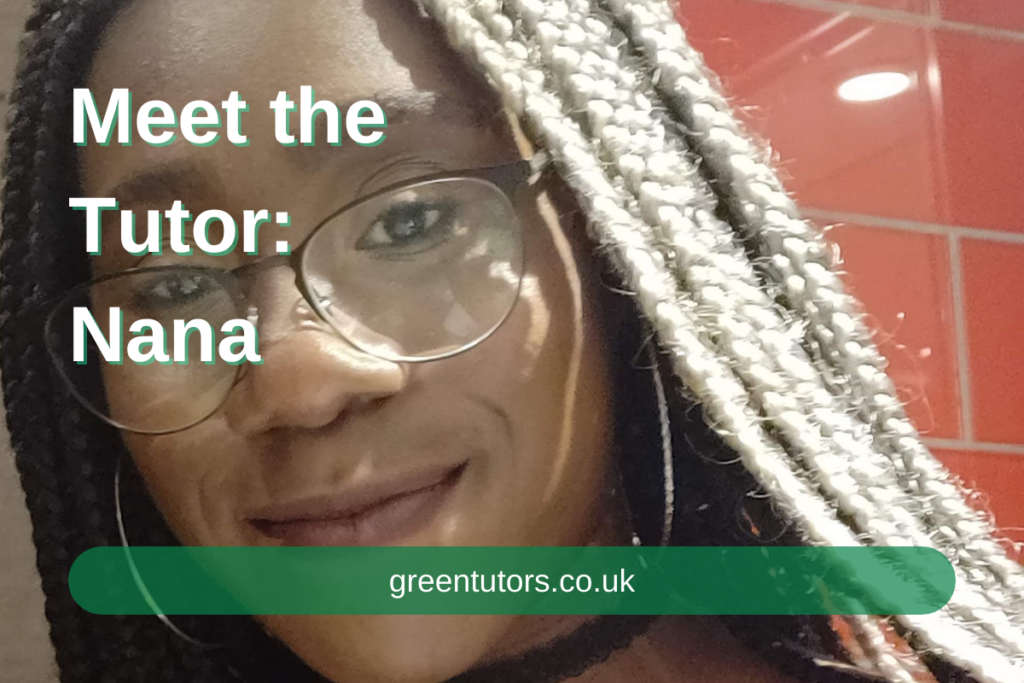 When I started building the Green Tutors team I set out to find online science tutors who could inspire school students to see a successful and impactful future in STEM careers. 
I remember delivering a STEM Ambassador workshop in a local primary school where a student said "I wanted to be a scientist but now I want to play guitar", and the look on her face when she discovered that I do both. 
Tutoring is about more than knowing your subject. You also need to connect with your students and make lessons meaningful to them. And you need to have fun.
I'm confident that the newest member of the tutor team will bring that to her lessons.
Who is Nana Asare?
Nana Asare is a recent chemistry graduate from Imperial College London and is currently working within the Bio-pharma industry (the same as Elan and several other Green Tutors still do).
When not working (or in a global pandemic) Nana enjoys volunteering, going to concerts/gigs and to the theatre. A girl after my own heart, she's missing the buzz of a live performance!
Nana also speaks Twi, which is a dialect of the Akan language spoken in southern and central Ghana. Ever the lifelong learner, I wanted to learn more about this language, and so discovered that the name Nana is a gender-neutral title representing the highest office in society, and Asare means "warrior, strong and brave, inspirer of change, advocate, one who fights for people's rights". Alongside that I'd like to think my name origin "farmer of the common land" sounds equally inspiring, but perhaps not.
Nana's study path
Nana left school with A grade A levels in Chemistry, Biology, and Maths – my three favourites.
She then gained an MSci Chemistry with Medicinal Chemistry and a Year in Industry at Imperial College London.
Nana's current role is as a Graduate Bioanalytics Technologist in BioPharma.
Mindful of the students who I've seen struggle to make decisions on their future after school, I asked Nana if this is what she'd always wanted to do.
"In all honesty I had no idea what I wanted to do after university. I knew that by studying chemistry I would have so many options when it came to careers, but it didn't make the decision any easier. I actually went for the current role that I'm in as its a rotational graduate scheme; so over the next 3 years I'll have the opportunity to work within various departments in a biopharmaceutical company."
It's always sensible to keep your options open as well as making decisions based on what you enjoy.
Now the million dollar question – what kind of student were you at school?
"As someone who initially thought they would pursue a career in medicine, I was definitely a studious student as I knew I would have to get good grades to make it into the field. But as time went by and medicine was no longer something I wanted to do, I still remained studious as I really enjoyed learning. I was also a teachers pet and ended up going to dinner with one of my teachers after I finished my A-Levels.😂😅😅"
A great role model for this year's students who will be having their grades determined by their class teachers!
Did you have a tutor?
"At GCSE I had an amazing English tutor who also happened to teach English at a secondary school. She explained things so well and I don't think I would have been able to get an A in English without her."
It really does help to unmuddy the waters of the mind to have one on one time with a tutor. If you're looking for an English tutor I recommend Zoe at Pass English GCSE.
How did you decide what to study?
"I didn't make my decision to study Chemistry until my first year of sixth form as I really enjoyed studying Chemistry at A-level."
Have you made any mistakes along the way to your current career?
"As I only started working less than a year ago I haven't had the opportunity to make many mistakes yet😅. But I think a mistake of mine would be working more than my contracted hours, as I found myself getting burnt out pretty quickly."
There's always room for mistakes, as they give room to grow. Mistakes are to be celebrated.
What are your top three tips for GCSE students?
"1. Making a study schedule is key – Ensuring you make time each week to look over topics will help you remember a lot more than when you cram.
2. Figure out your learning style – Everyone learns in different ways and knowing your learning style will make your revision sessions more effective.
3. Remember to take breaks – Studying until you burn out won't help you succeed"
Great tips for any student determined to do well in their exams. You can find even more tips on improving your study skills in our blog 10 Ways to Improve Your Memory for Effective Revision.
If you'd like to book a lesson with Nana she's available for chemistry, maths, or biology tuition at £40 per hour online. But be quick, as she only has a few spaces available. Submit a Request for Tuition form today.