As you know, we're all about finding great role models in STEM careers to inspire our students. Elan is no exception to that!
Another fantastic member of the tutor team, chemical engineering student Elan is tutoring maths, chemistry, and physics for GCSE and A level. He's fully booked for 2022 exams but you can get on the waitlist for a September 2022 start.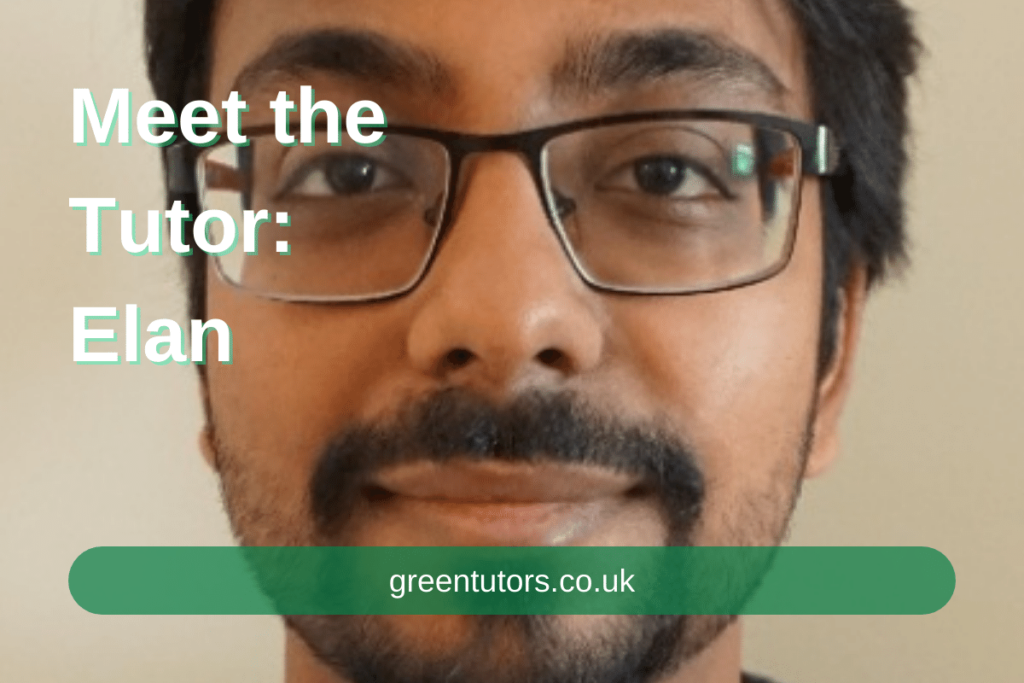 Having already gained a BSc & ARCS in Chemistry, and MRes in Nanomaterials (achieving a Distinction), from Imperial College London, Elan is now a PhD Candidate in Chemical Engineering at UCL. He is researching the synthesis of ammonia through photo-electrochemistry. (Incidentally, socially conscious Imperial launched a free online course on Coronavirus that you can access here.) He was also awarded First Prize in a writing competition hosted by the IChemE London & South East Young Members' Forum answering, 'How is Chemical Engineering Addressing a Global Issue?'.
Elan is excited to help, inspire and reassure students to do well in their studies. He enjoys playing Squash and Badminton. He also enjoys baking. I'm excited to help him gain experience through tutoring to help students in their understanding and passion for STEM subjects.
Based in Finsbury Park, Elan will be primarily tutoring students online, through Zoom and/or Google Meet. Our students and tutors are all now very familiar with using these platforms for lessons, and it actually has provided several opportunities that don't exist in face to face lessons. An article from the World Economic Forum shared data that "on average, students retain 25-60% more material when learning online compared to only 8-10% in a classroom". We can be more 'ad hoc' with scheduling lessons, and the content covered. Having to work through online platforms may have initially seemed like a barrier, but it has now opened up additional opportunities for students to engage in their lessons, and create learning material 'as they go'.
I asked Elan a few questions about his academic and career experience so far.
What did you study to get here?
A level Chemistry (Edexcel) A*
A level Further Mathematics (Edexcel) · A*
A level Mathematics (Edexcel) · A
A level Physics (OCR) · C (A at AS)
I received the Doug Peacock Memorial Award 2015 Certificate of Distinction for achieving the highest grade in Chemistry A Level out of 80 students at Kingsbury High School Sixth Form.
Is this what you always wanted to do?
I went through a series of different career choice options, but ultimately chose chemistry because of trying to understand more of the world around us on the atomic scale and using that knowledge to inspire a greener future.
What kind of student were you at school?
Focused, determined and well mannered
Did you have a tutor?
Yes I did! I found it extremely helpful to have a tutor to support my studies. I had a tutor during my GCSEs and A Levels and found that the 1-to-1 sessions were essential in enabling me to reach where I am today. The individual lesson provided me with the confidence to ask questions that I wasn't comfortable with asking in school. The sessions also helped me pick out my weaknesses and overall strengthen my skills.
How did you decide what to study?
I wanted to study something in which I could make a difference. With chemistry, we can make materials to combat climate change and hopefully build a better future.
Have you made any mistakes along the way to your current career?
Too many to count! But it's important to make mistakes! Mistakes are important tools to ensure you eventually arrive at the right answer or the right path. Learning from your mistakes let's you grow and develop your skills.
I had some setbacks during my university studies which meant that I could not do an integrated masters degree. I finished with a BSc. In spite of this, I decided to take some time to study to improve my confidence in the topics and come back to complete an MRes in Nanomaterials with a Distinction.
What are your top three tips for GCSE students?
Don't panic
Read the specification for your course
Start revising early
Great advice for our students in 2021! It's never too early to build good study habits. You can read more revision tips in our 'Study Tips' blog series.

Elan is available weekday evenings and weekends for online lessons in maths, physics, and chemistry. Get in touch here to find out more and book a lesson.