Optimising a home study space can make a big impact on achieving study goals. But what can you do to make a difference?
Not every child has equal access to education
Students are spending more and more of their study time at home. We may not be in lockdown right now, but is still the need to isolate for many families. There has also been an increase in the uptake of homeschooling having spent so long out of school in the past year.
Not every student has a quiet, comfortable place to study at home. This can have a big impact on their productivity. Without access to the internet, or an internet connected device, without a quiet space to sit and work, or with caregiving responsibilities, clearly not every child has an equal access to education.
You can learn more about the barriers to educational success in society, as well as how you can contribute to make a difference, at https://www.suttontrust.com/support-us/.
Productive zen or crumpled chaos?
But even if your child is one of the lucky students to have access to a laptop and somewhere to study at home, they don't always make the best choices, and could do with some guidance in optimising a home study space.
It doesn't need to be anything fancy to make a difference. I have a desk in my living room, as I'm going to be spending most of the day at it and I want it to be comfy!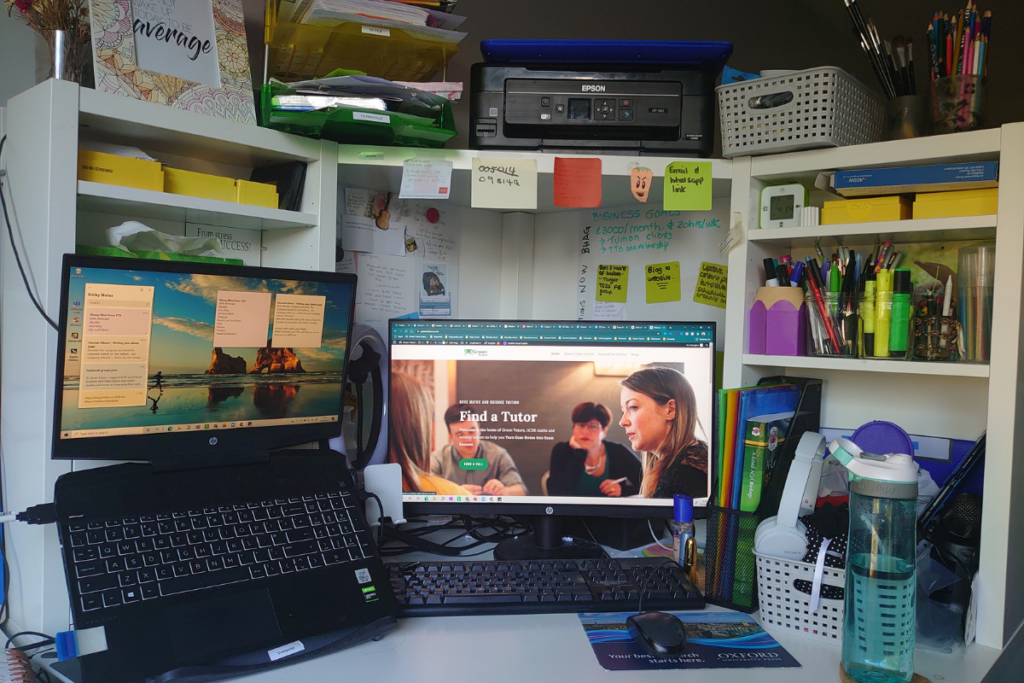 Many students work on their bed, which is not ideal:
Sleep and work space should be separate to encourage quality sleep
Beds filled with pens and snack crumbs aren't ideal for a comfortable sleep
Homework can get lost under the bed/pillow/cuddly toys
There's no writing surfaces
Posture is poor
A lot of students work on their dining table, which can work well if it is set up well. But this is less effective if this is the hub of the house and there are lots of comings and goings. Every interruption can mean 20 minutes of focus lost as the brain gets back into 'the zone'.
How can you improve your study space?
If you have desk space at home, can you work out a system to share it so that everyone can schedule their work and rest time? If you're working there during the day, can it become the homework space in the evening? At least that means you won't stay working into the evening!
If time management and planning is an issue, you might find some helpful guidance in my blog on 7 Ways to Master Time Management.
It helps to have a comfortable chair to sit on while working, so there's less fidgeting. Dining chairs are not usually made for sitting in for hours. A swivel, padded chair with back and lumbar support and armrests is ideal. You can create a similar effect with cushions.
It is also good if there are doors that can shut out noise from the rest of the house. If that isn't an option, noise cancelling headphones also work well. I use these: https://amzn.to/3FIRsqi.
I also have things on my desk to motivate me. On one side, I have my goals to keep me focused. On the other side, I have thank you notes from my students. You could put up quote cards, your child's study goals, a picture of the University they want to go to, or the job they're hoping to get. Anything that helps to keep them focused and positive. The Little Box of Calm has a great selection of uplifting messages, plus a stand so that you can rotate them day to day. I tend to stick with 'Focus on one thing at a time'.
Is there anything you could do today to make a more productive study space at home?
Need some extra help?
If you have a great study space but your child still struggles to stay focused on their revision, it may be that they need a plan to help them to set their direction from the start. Its very difficult to get started when you don't know what the first step is. You can book a revision masterclass with me to get a personalised study plan for the year ahead, and lots of tips and guidance on how your child can make the most of their revision time.