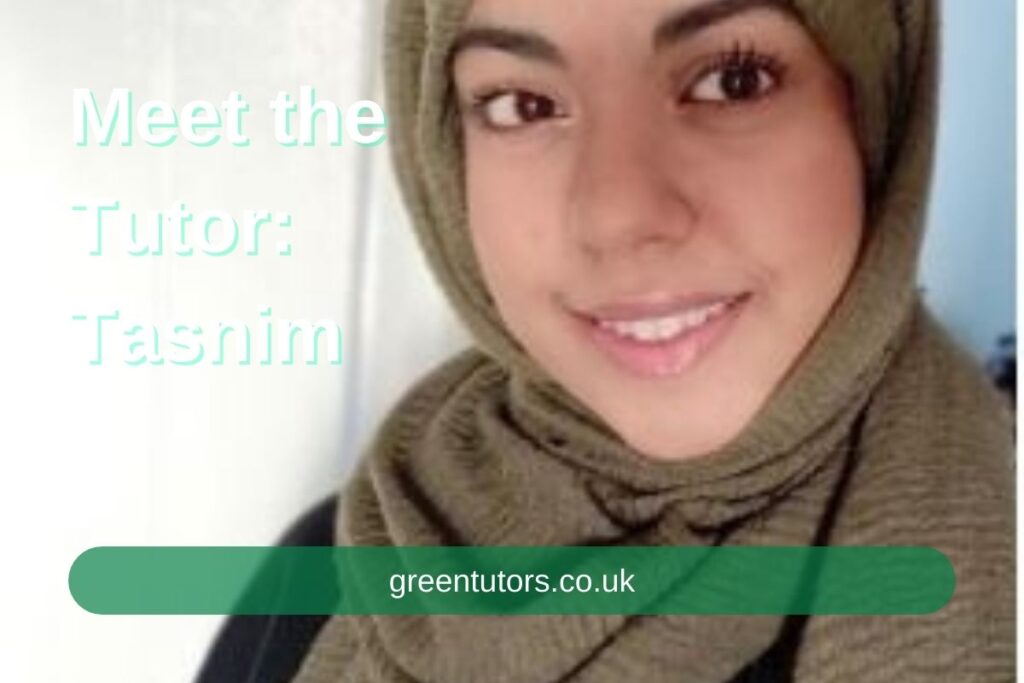 Tasnim is a 22 year old student, who completed a degree in Pharmacology this year (2021). She has been tutoring for a few years now, as well as volunteering with children over the summer. We're very happy to say that over the last two years Tasnim decided to make tutoring her profession.
Outside of studying & tutoring Tasnim also runs her own business making and selling personalised gifts! She's very talented. You can see her work at https://www.instagram.com/tasnimsartistry/.

Qualifications
BSc in Pharmacology
A-levels in Biology, chemistry & Maths

Additional languages (optional)
Bengali
What is your current role?
Tutor

What did you study to get here?

Pharmacology

Is this what you always wanted to do?

Yes but I've also wanted to go down the science lab route, right now I'm still unsure so I'm doing a bit of both

What kind of student were you at school?

Quiet, academic, introverted saying that I had a pretty big group but I was one of the quieter ones

Did you have a tutor?

Yes, for Science during GCSEs & Maths for A-levels + my friend who did further maths also tutored me every week in maths during A-levels because I was so behind but I got there in the end!

How did you decide what to study?

I've always loved learning about the science behind the body and that's what my degree has a lot of

Did you make any mistakes or have any setbacks in your career path?

During my A-levels because it was at the end of two years I was lazy in my first year which was a huge mistake because I had to catch up two years and I think if I wasn't lazy I probably would have got into a better uni. But I guess at least I got my degree that I wanted and if I'm honest had I gone to those better unis I wouldn't have found pharmacology because I didn't know it even existed!

What are your top three tips for GCSE students?
Learn the spec inside out & base your revision on that.
Do the 50/10 rule – work for 50mins, rest for 10mins. You take in so much more.
PAST PAPERS – test yourself as you've finished a topic, I used to put the past papers into topic categories and answered them multiple times
If you might be interested in GCSE maths or science tuition with Tasnim, submit your details at https://greentutors.co.uk/request-for-tuition/ and we can arrange an introductory call for you.